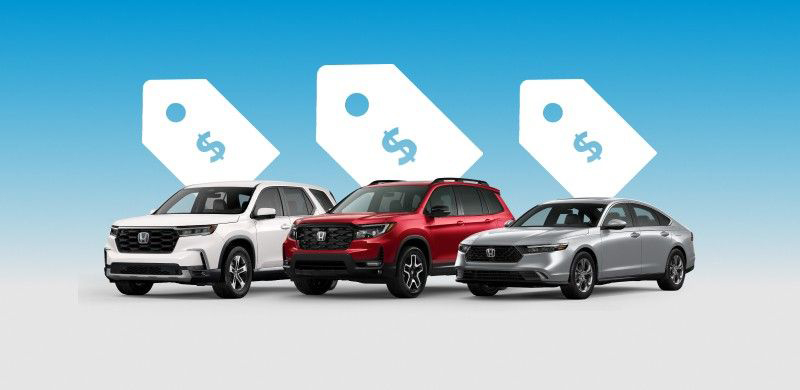 Current Offers
See this month's featured current offers going on now on new Honda vehicles.
View Offers
Our Reviews
You walk into the showroom and it's spotlessly clean Everyone on staff was very friendly in a most sincere way I appreciated having to follow safe protocol
Love manly. Friendly with good customer service. Just wish it was easier to make a service appt. I gave up and went elsewhere w previous vehicle.
I brought my car in for an oil change. I had a service plan and although it took some time to locate, everything went smoothly. Because of the confusion, I was jot charges the tire rotation fee when I came to get my c at. That was very appreciated. They even washed my car. Outstanding customer service!!!
Excellent service , helpful employees understand the need what to do . Mostly I like Ron the way he handle customer. He help me behind the late hours too. Love this guy.
I enjoyed the buying experience with Lorena and Victor. Victor was super helpful. We made the deal before I went to Santa Rosa. The only hassle I got was an extra digit on my credit card payment. Julia helped to correct the number the other day.
Ron was very helpful and informative about my brake repair. He was able to give me a good price and a speedy repair. Thank you.
I had a great experience and excellent service from Ryan Tanguay at Manly Honda. He was very attentive and helpful which made purchasing my first car easy.
Completed our 5K initial service in under 2 hours. Service advisor provided clear information and the cost was minimal. Vehicle was cleaned and settings maintained.
My experience with Manly Auto was phenomenal. Margarita Verdin who works with Manly Auto made it super smooth to sell my car.She was quick and very responsive over emails and call. I had posted an add on Craigs list. She inspected my car took my details and documents online and she sent out few people to take my car and handed me a check. Super smooth and easy! Also she described each step of the process really well.She sent out two people to take my car the very next day. The person(Pat) who came to take my car was very kind and walked me through all the documents to sign and gave me a few action items like cancelling insurance, stopping payments. That was so helpful! I highly recommend Manly Auto to people who are looking to sell/ buy cars.
Mike was very efficient and answered all my questions in full. Actual time to service the vehicle was less than Mike had estimated so kudos to the service tech whom I never got to meet or thank.
so appreciate the quality of service and accommodation to time and transportation. They explained what services are currently required and what can be done later. Having my car returned clean was a plus in addition. Great to compliment service by having them send discount coupons.
Ma Alvarez was most thoughtful in providing a loaner car and in returning my own car from its recall earlier than expected. She is an asset to Manly Honda.
Donovan helped my husband and I with our Civic. We were driving back home to Pleasanton and there was this grinding noise coming from underneath our car. The Service Department was closing in half an hour and Donovan was still willing to help us. While checking the car in, he did a walk around and looked underneath the vehicle and quickly found the issue. We were so happy that the outcome wasn't damaging to the car and that Donovan's willingness to help had us drive home safely.
Great service would 100% Honda on Santa Rosa ave and with excellent service from Lorena Ortiz ! Thank you for making the process easy and simple (:
My experience at Manly Honda was superlative! Alex Iniguez and Scott Longaker were both not only friendly, informative and supportive throughout the experience, but they delivered my new GTI to me this morning which was a super thoughtful touch of extra customer service! And Efrain obviously worked hard to get me the best terms possible for my loan. Overall a great experience!
Excellent and prompt service from Yesenia and her colleagues. Was a smooth transparent transaction. Was a great to work with them, very professional and helpful.
I received outstanding service from Bill in the parts department! Excellent product knowledge and communication. A solution oriented approach. Customer centered. I appreciate that very much. Thank you. I'll be back.
I just purchased a car from Abraham Contreras and Manager Miguel Britto. Simply stated- Manly is the best experience in town. I don't want to deal with a dealership or sales people who try to "sell" me or use silly tricks to "put you in a car today". I want to go in, look at the car, drive it and walk out without with any pressure. When decided I wanted to buy the car, we made an appointment with Tim Dang in finance to come back to sign the paperwork. That was literally a 15 minute process and I was gone with zero pressure. Couldn't be easier.
It is a clean pleasant dealership. The staff is very helpful. My car was done when I was told it would be ready. I was able to have a rental so it was convenient.
Yuritza was very helpful and courteous when I came in. Only wrong thing was my rear license plate was bent and the frame was broken
Estoy muy satisfecha por tomar responsabilidad de reparar el parabrisas de mi carro al cual ustedes me lo entregaron quebrado y sin decirme nada. Muchas gracias
For 20 years I have stuck with Manly Honda in Santa Rosa thru 7 cars that have been fantastic because the crew there is AMAZING!
I got a very nice customer service from America Quiroz she's the best. I always prefer to do all my car's service at Manly Honda Santa Rosa.
I have a great service at this place. They friendly,honesty , helpfully and easy to deal with. The most important is they keep good appointment. They are very good.
My recent experience at Manly redeemed your dealership helped to repair a broken trust. I had a very negative experience in your Service Department in the past. I have been told changes have been made.

Welcome to Manly Honda
Your Trusted Dealership in 2777 Corby Ave Santa Rosa, CA 95407-7845
We know that prospective customers are extremely well educated when researching their next vehicle. Manly Honda in Santa Rosa has made it easy to get all the available vehicle information so you can spend less time researching and more time enjoying your purchase. Check out our new specials and used specials for additional savings on your next vehicle.
As a premier Santa Rosa dealer, we have a huge selection of new and used vehicles from which to choose. Manly Honda in Santa Rosa online and offline customers enjoy vehicle specials every day. We offer service & parts, an online inventory, and outstanding financing options, making Manly Honda in Santa Rosa a preferred dealer for buyers. Ready to set up a test drive? Visit our dealership in Santa Rosa, CA today!
Get Directions To Manly Honda