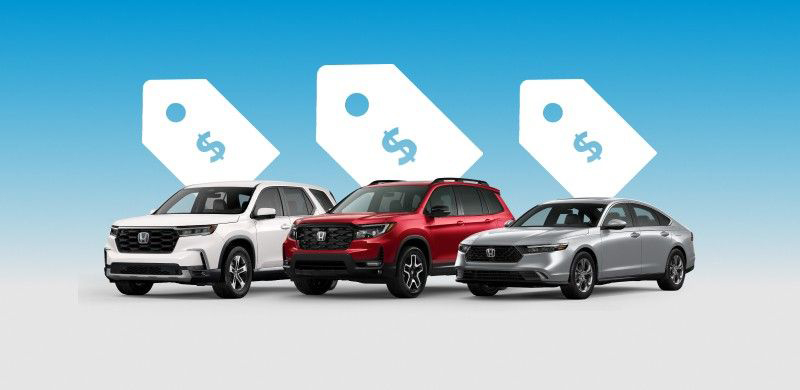 Current Offers
See this month's featured current offers going on now on new Honda vehicles.
View Offers
Our Reviews
This is a great place every one is very helpful and friendly this is my 2nd car that I purchased. Thank you
Very attentive to my needs, listened to what I wanted. Took the time to work with banks to get me financed. Ryan T. Was absolutely AMAZING!!! I love my New Honda Accord! I will continue to recommend people to Manly Honda!
Service was done as requested .Service advisor was pleasant and informed.I will return as needed.
I had a great experience, Yuritzi was very helpful and answered all my questions and helped me get in and out in a timely manner
Excellent service, good information, kind explanations, and proper guide. The car is nice. Thanks to all.
Excellent service. We got exactly what we needed and wanted with a friendly staff. Recommended!
Robert is the bomb! He was so patient with me and gave me really great guidance. He was honest and kept it real when it came to what was best for me and my lifestyle. I wish I could remember the woman who went over financing with me because she was such a homegirl! Overall 10/10
The Manly Honda team members are friendly, professional, knowledgeable and very customer focused. I stayed in the waiting area while my car was being serviced, which is comfortable, clean and well maintained.
Great service! Always welcome and feel take care off. Happy to come back again and again
I was immediately greeted with a smile from Susan Geasland. She went to my car and took down some information. She then asked if I was staying or leaving. She showed me the waiting area and gave me an estimated time as to when my car would be ready. Great waiting area. A pleasant experience.
Amazing Service, Great People! Will be back here when I am ready for a new car!
This dealership is far superior to Hansel Honda in Petaluma way better staff. Friendlier and willing to work and get the best offer for the client. Efraín was an amazing person to work with I really appreciate all the time he took to get my car I wanted.
I was greeted with warmth and sincerity. My service advisor, Ron Times was pleasant and knowledgeable and the car was finished as promised. I was taken a back when I was told the cost of the service. This is the first time that I spent over $500 for a 15k service for a Honda product.
Napa Ford. 0 SR Honda service Great Positive, kind, quick, my serious concern s alleviated, by Professional Staff. My 2021 H accord Hybrid Had emissions light. Wish sales had reminded me I had #Warranty, night before. I was distraught. NEED EXTENDED WARRANTY N SOME SUPPORT WITH NEW CAR. THANKYOU 707-328-3255 Blessed Holiday
Greg at Manly Honda was awesome to work with! He was very clear and upfront about every step of the process of me buying a car, and walked me through it all. The car i wanted was in high demand, and it was the only one left in the country, it seemed, but Greg never made me feel pressured to buy, and he didn't try to haggle on price, it was just as listed, which was an amazing deal! Greg answered every question clearly and honestly, and he made me really want to do business with him again, which i would happily do the next time i buy a car. Thanks so much, Greg! :) i also had my new car serviced there. The service experience installing door strips was very good. They gave me a nice rental, and when it became clear it would take an extra day, they just told me to keep the rental for longer. They were friendly and helpful, and i would happily have my car serviced there again.
Service team was friendly and helpful in clearly explaining everything about my car. Waiting area was clean and a comfortable place to wait in.
Staff was very professional. Work done in a very timely manner. Very organized drop off.
Ron was great; he checked everything I listed on the service sheet and called me back to confirm my suspicions. He provided a recommendation and helped make the repair cost-efficient, and I was grateful for all of his help and honesty.
I had the best time getting to know you I bought the best car for me in my price range I really appreciate it I am the happiest person in the world right thank you very much
Fast and reliable service. I appreciated the fact that they arranged a Lyft ride for me, as I needed a ride home.
Superior customer service! I had my car towed to Manly from checking in with service to getting in rental car took less than 1 he! That's unheard of in today's world! Special thanks to Denise Rice & Lori Comini! Your entire team is second to none! Thanks! Mike Hermes
We appreciated the low key sales approach. Cody (sales) greeted us and asked how he could help. He was very pleasant and attentive to our questions. When we expressed interest in the vehicle and made an appointment to return later that day he took it upon himself to have the car cleaned and detailed while we were gone. Upon our return and decision to purchase the vehicle, we were helped by CJ and Edgar, both of whom were very pleasant to work with. One small negative was that we were asked to complete some paperwork online to expedite the sale, if we decided to make the purchase. We did the paperwork on the Manly website and it didn't integrate into the final closing documents very smoothly. When we were completing the paperwork to purchase the vehicle we ended up having to redo all the paperwork in person, with CJ. We thought the whole reason for submitting the paperwork electronically was to avoid that if we decided to purchase the vehicle.
Nice, respectful, kind, courteous and very efficient with time, and arranging Uber. Really makes effort to be accurate with estimates!
Had an unexpected problem with my Honda Insight, and was immediately accommodated by the service department. Friendly service staff explained the process thoroughly and met all of the deadlines they set for themselves. Great experience.
Great service... friendly, knowledgable staff made getting my car repaired very easy.. Quick service, got me in and out..

Welcome to Manly Honda
Your Trusted Dealership in 2777 Corby Ave Santa Rosa, CA 95407-7845
We know that prospective customers are extremely well educated when researching their next vehicle. Manly Honda in Santa Rosa has made it easy to get all the available vehicle information so you can spend less time researching and more time enjoying your purchase. Check out our new specials and used specials for additional savings on your next vehicle.
As a premier Santa Rosa dealer, we have a huge selection of new and used vehicles from which to choose. Manly Honda in Santa Rosa online and offline customers enjoy vehicle specials every day. We offer service & parts, an online inventory, and outstanding financing options, making Manly Honda in Santa Rosa a preferred dealer for buyers. Ready to set up a test drive? Visit our dealership in Santa Rosa, CA today!
Get Directions To Manly Honda