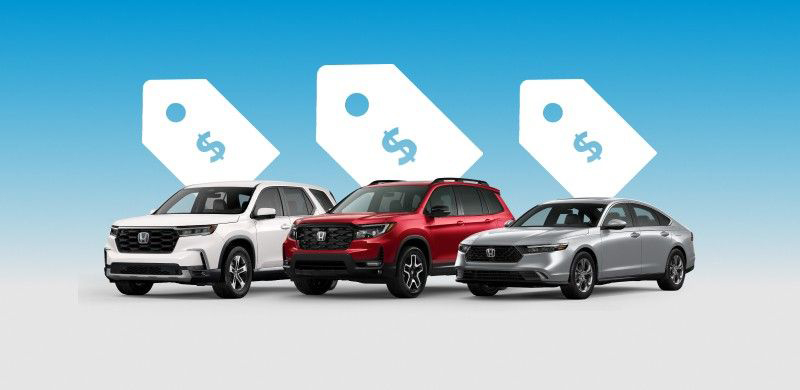 Current Offers
See this month's featured current offers going on now on new Honda vehicles.
View Offers
Our Reviews
I love this dealership! This is where we buy or lease all our cars! Been coming here for a few years now! Great service Department we won't go to anyone else!
Lucy was very helpful and my car is service is great. Thank you so much.
Tom Haidet was very helpful and informative with us about getting our Honda Accord Hybrid. In this time of supply shortages he kept in touch with us to let us know what was happening with the car. We have been going to Manly since 1991 and will continue to do so. One of the best salesman we have ever worked with!
prompt, kind, respectful workers--the reason why i stay with honda. incredible reliability, great service, awesome deals and cost. i love manly and dont ever want to leave!
When my sunroof refused to close at 4pm I was very anxious, as I park my car outside and feared for it's security. I drove directly to Manly and Service Adviser Jose made the time at the end of the day to manipulate the malfunctioning sunroof to get it to close and thus it was ok to park outdoors until a service appointment for repair was available. Communication with the Service Advisor is of paramount importance to me, and your communication system using text messaging is very effective. Also, transparency is also very important for a customer like me who doesn't know the ins and outs of autos: at this visit the technician broke clips of the new part he was installing and thus needed to reorder the part and thus the repair took an additional day. This info was shared with me, which I really appreciate. Also there is always concern for any alternate transportation needs that I may have. For me this equals a satisfying service experience. I also ordered a touch up paint from the parts dept. Bill Robertson took the time to explain the use of the container to me. Thank you.
Love these guys two hours I was done thanks for the. I'm and out
Great people at Honda, Marcela was amazing helping me out chasing the right vehicle for me not only thinking on just to do a sale and the financial team was amazing as well explained to me in detail about my leasing car 4⭐️
Manly Honda is where I purchased my car and where I always get it serviced. This last visit for servicing was outstanding as usual. There were several people that I interacted with there and they were all so very friendly, knowledgeable and pleasant. It is always a pleasure to get work done at Manly Honda.
I have purchased three cars from Manly Honda. They always treat me with respect and give me the best deal they can. In this age of supply line issues, Jesse worked with me to get me the car I wanted in record time. I recommend Manly to anyone looking for a car, new or used.
Lucia very pleasant and helpful...no complaints about her. BUT they have known about this recall I'm coming in for next week for a LONG time and yet NO part in stock, so I have to come back again for that, when they could have killed two birds with one stone.
The car was ready when we got there. The finance officer Ali was able to get us a great APR. The only issue we had is there were no flyers for the car to see actual additions like the spoiler that my son ordered.
I only can sum up my experience in a few words. Fast quality service done on rime with a smile.
Words cannot express how our feelings about how we were received and served at Manly Honda. The sales person and the financial person were both very knowledgeable as well as helpful. They were both very patient and explained everything along the way. I give the Manly Honda 5 stars and then some.
They are customer friendly and they will accomodate you as soon as possible. Will trained.
Ted always takes great care of me in a prompt and efficient manor. I always request Ted when I come in
Great service, as usual. . Prefer employees didn't wear masks. Would like to see their face. This is a huge issue for me.
Initial contact with Sales rep Jesse Broadway. Mr.Broadway was especially attentive and responsive to what we were looking for. Found beautiful Black Honda Accord and finalized the purchase however after a few day my wife felt that the Accord model felt too big for her. We returned the car and Jesse and finance team were very understanding about the change in our vehicle preference. That same night Jesse continued to help us find that right car. Our experience with Manly Honda was very positive! Respectfully Joe and Cynthia
Excellent sales service going above expectations making customers feel comfortable the best confidence in there work.
1st service for 2021 CRV- usual excellent care from the Service Dep't. My Service Advisor also reviewed the work done & asked if I had any questions. I've had nothing but good service from this Department.
Your service staff is organized, courteous and accommodating. Paul has been very helpful to me.
Great service, respectful, and follow up. Kept all promises without any up charging, unlike several other dealerships.
My friend and I had a great experience buying a car here! Everyone was kind and helpful.
Fantastic service and pricing. Thanks. Will come again. Service writer was great. Very good car wash also.
Thank you Manly Honda for taking care of me, helping me travel for a road trip
I never do reviews, I feel compelled to warn Americans about these people at this dealership, they took advantage of us so bad that I am embarrassed to tell people, the dealership was closing and we was there for hours, they charged us $1000 for interior repair for the future along with thousands of dollars for other things on the car, then had the nerve to tell me that they are the best dealer around, my fellow Americans find another dealer these people are crooks , my name is JASON CRISTO

Welcome to Manly Honda
Your Trusted Dealership in 2777 Corby Ave Santa Rosa, CA 95407-7845
We know that prospective customers are extremely well educated when researching their next vehicle. Manly Honda in Santa Rosa has made it easy to get all the available vehicle information so you can spend less time researching and more time enjoying your purchase. Check out our new specials and used specials for additional savings on your next vehicle.
At Manly Honda, your local Santa Rosa dealer, we have a huge selection of new and used vehicles from which to choose. Manly Honda's online and offline customers enjoy vehicle specials every day. We offer service & parts, an online inventory, and outstanding financing options, making Manly Honda in Santa Rosa a preferred dealer for buyers. Ready to set up a test drive? Visit our dealership in Santa Rosa, CA today!
Get Directions To Manly Honda