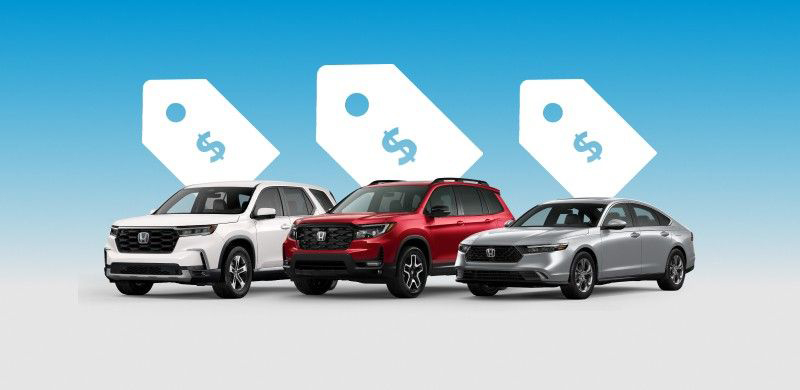 Current Offers
See this month's featured current offers going on now on new Honda vehicles.
View Offers
Our Reviews
This was my first service appointment in my 2022 Insight. Shyla Saxton was my service advisor and was wonderful to work with. She was thorough, efficient and very pleasant. I also want to thank the person that did the service of my vehicle, though I do not have his name (If I did he would receive 5 stars too!). He was ready to take my car right away so my wait was minimal. Well done Manly Honda!
Parts for my repair not available for 6 weeks and Accord not drivable. Loaner made available. Very thankful for great service department staff.
Very welcoming answered all the questions I needed and I wouldn't go anywhere else the best place ever
Everyone is always friendly. I also like that they don't hide prices and stuff. Everything is transparent which I appreciate. He also warned me about my oil change next time (it's going to be an expensive one) so that's nice that I get a heads up.
Everything went great. Service was excellent and they got my car in the same day I scheduled.
Professional service, affordable prices, vehicle ready on time, very nice and clean shop, great service advisor, I definitely recommend Manly Honda!!
Very nice service everyone was very helpful. Defiantly has great sales persons, over all great experience.
Excelente atención to me and my car. Thank you manly Honda Muy amables y amigables
The people are pleasant and friendly. They followed through with what they said they would do in the time they said they would do it. The prices are reasonable, and we didn't feel pressured to have anything done that wasn't necessary, and the paperwork was very complete.
Such a great dealership especially their sales person Tom. Tom was such a great resource and helping hand especially as a first time buyer. He helped me find a car before it even touched the lot and got my name on it and helped handle necessary paperwork needed from me before i even arrived at the dealership. Which as a first time buyer made this process smooth and less daunting
We have used Manly for service on our previous Honda Fit, and now on our Ridgeline. They have consistently be honest and easy to work with.
Leased a car in less than an hour with an awesome car salesman who I felt was honest, sincere, and genuine. Completed the paperwork the day prior and came the next day to dealership. Walked out of the dealership with a brand new car in less than 30 minutes. No upsells, no unneeded extras, etc.
Honest, friendly, low pressure sales people. Can't ask for more then that from a car dealership.
Fast and professional service and I got a car wash and an espresso! The waiting area is quite nice.
Fast, professional, and helpful. They really came through form me with very little notice. Great Service!
Ryan was great to work with. Nice guy and quick to respond, no pressure at all.
Also have great service when I bring my Ridgeline in. Friendly and helpful! I love the rental car I can get while my truck is being worked on so I can still get everything done I need to get done that day.
Absolutely, amazing experience with the ultimately awesome team at the incredible Manly Honda of Santa Rosa!
Very pleasant experience I had with the clerical up front. She made me feel welcome right when I came in! Fast and quick service.
We had the best experience with Manly Honda! The salespersons we dealt with were extremely patient, and attentive to help us find exactly what we needed in the right budget. We had some fairly strict requirements with having young kids in carseats and needing the vehicle to have enough space and safety features, but within our mileage and budget needs. We ended up going back three times and looking at several different vehicles. They were so patient and never once pushy. I felt they really listened to me when I would express a concern or dislike about certain features or vehicles. They were ready with input, but let me take the lead on what I really was interested in (or not). We ended up finding the absolute perfect match that checked off every box (and then some) and ended up being around $7000 UNDER our max budget! We couldn't be happier with the vehicle and the price we ended up with. I so appreciate their efforts and time to make both shopping and buying a fun, easygoing experience. We will most definitely return to this dealership for our future car buying needs! Our two main salespersons were Michael Salazar and Jacob Knight. Every person we spoke to though had excellent, caring customer service!
I was able to drop my car off without an appointment and got an Uber there anc back quickly. My car was ready quickly, although I had to wait about 15 minutes once I got there before it was completed.
Great customer service! Everyone is polite and welcoming. I've been taking my car to be serviced by Ron who does a great job in answering all my questions and providing a great service.
Service representatives professional at all times which is greatly appreciated Service was quick efficient and my experience was very good because of all that
Shyla was excellent. Great communication on what needed to be done with my car. She got me free plate frames too!
I recently wrote a review giving Manly Honda 1 star. As you can see I have now given them 5 stars due to the subsequent response to my previous review. I was given a fair review of my situation and compensation. JD was very professional and took immediate action. I appreciated his intervention and support.

Welcome to Manly Honda
Your Trusted Dealership in 2777 Corby Ave Santa Rosa, CA 95407-7845
We know that prospective customers are extremely well educated when researching their next vehicle. Manly Honda in Santa Rosa has made it easy to get all the available vehicle information so you can spend less time researching and more time enjoying your purchase. Check out our new specials and used specials for additional savings on your next vehicle.
As a premier Santa Rosa dealer, we have a huge selection of new and used vehicles from which to choose. Manly Honda in Santa Rosa online and offline customers enjoy vehicle specials every day. We offer service & parts, an online inventory, and outstanding financing options, making Manly Honda in Santa Rosa a preferred dealer for buyers. Ready to set up a test drive? Visit our dealership in Santa Rosa, CA today!
Get Directions To Manly Honda