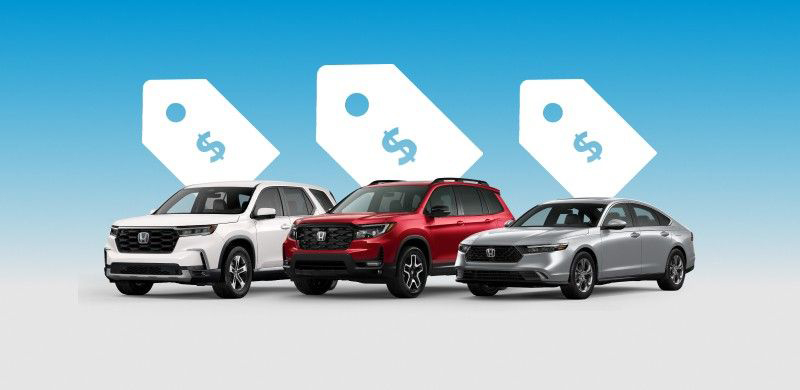 Current Offers
See this month's featured current offers going on now on new Honda vehicles.
View Offers
Our Reviews
I have been leasing my cars from Manly since 2014 and I have stuck around for a reason. Always the best customer service! Nicole and Sean both went above and beyond my expectations this time around and I couldn't be happier!! Give those two a raise 😄
Victor is a very good person he help me answering all my question, he explain me all the proccess
Had a great experience purchasing my first vehicle. Edgard was very helpful throughout the entire process! He was very friendly, professional and showed knowledge of the cars features.
Tiene personal capacitado para dar la mejor información de lo que buscamos y son muy amables
Perhaps the best car buying experience one could ever have. Courteous and highly competent. Thanks!
Victor made our shopping experience easy. Our finance guy was great explained everything well and was quick!!! A+++
Paul Remollino is very helpful. He lets you know exactly what they are doing and when it's likely to get done. Often, there will be an issue with parts or being understaffed, but he handles all of these problems with courtesy and letting you know he is doing the best that he can.
Staff are friendly, helpful and approachable. Transacting is very smooth and explain everything you need to know.
All of them were very helpful. They made the experience very easy. I've worked with Scott on leasing prior vehicles and he has always been helpful.
I have not purchased a vehicle in 15 years. Things have changed for sure. Greg was very helpful and very dependable. He answered all my questions and got the exact car I wanted! I was very pleased with my purchase as well as the swift process of purchasing a car.
Jesse was awesome quick and honest, I couldn't of asked for a better car buying process
A Great and easy experience as always. Paul was a champ for me and got my repairs done in no time. Excellent service and great staff. I'll be back for sure
Wonderful experience. Honda has always treated me fairly and taken good care of me. I am so grateful for their support and for giving me vehicles that are reliable, affordable, and get me where I need to go with ease. When I first returned from Costa Rica when I thought I would escape the American 'rat race', I had no money and not that great credit, and Honda helped me get into my first lease with no money down and affordable monthly payments. I am now on my 4th lease, and have gotten a Hybrid! I'm excited to save money on gas, hopefully keep the air a little cleaner, and I have even lower monthly payments. Sean and his assistant Nicole have been a pleasure to work with. They have been kind, fair, honest and a pleasure to connect with. Sean was kind to include benefits like a new program to take care of my maintenance on the car for free for the next 3 years. They are nice people, I love the lounge area and the whole Honda family here at Manly. Thank you again for taking such good care of me. I ❤️ you all!
Lucy is wonderful. Helped me with what I needed. A beautiful person. Kind And understanding
Manly Honda has been our for many years now for both of our Honda Cars. No issues to report, just Two healthy cars for our daily travels. Thanks Manly Honda!
Went in for an oil change and they were very attentive and organized. They started on my car right away and gave me a free car wash. Everyone was very nice and I enjoyed their hospitality as I waited by drinking the Tea they provided as well as having a snack. There were newspapers to read in the waiting area which also made it a pleasant wait.
It is a great dealer to buy your vehicle, the people who serve you help you and are very kind, the bad thing is that now this dealer forces you to buy the accessories of your vehicle... he was the only dealer who did not do it
I had an excellent experience here my car was serviced very well and I got a call that my car was ready before the promise time. I will continue to come to manly Honda because of the fantastic customer service and great work done on my car. I even got a free car was I was very happy.
Excellent and courteous service. Enjoyed complimentary beverage in comfortable waiting area. Recommended service completed on time including complimentary car wash.
They treated me well and that's why I recommend it for my whole family
I felt they were honest and upfront. Held the truck for me for the week until I could get there. Very respectable
I am always very happy when dealing with the service staff.. everyone is friendly and appears to love their job.
Greg made it work. He even filled the car with gas before we left. Thank you
Excellent service for airbag replacement. There was very little wait time to check in, and pick up car. Mohamed was professional and personable.
I have bought two cars from Manly Honda. It's a friendly, professionally run business. Great cars! In 14 years, I never had any engine trouble with my Honda Civic Coupe. Any external issues were dealt with by the dealershp in a fair and efficient manner. I am very happy with my new Honda HR-V.

Welcome to Manly Honda
Your Trusted Dealership in 2777 Corby Ave Santa Rosa, CA 95407-7845
We know that prospective customers are extremely well educated when researching their next vehicle. Manly Honda in Santa Rosa has made it easy to get all the available vehicle information so you can spend less time researching and more time enjoying your purchase. Check out our new specials and used specials for additional savings on your next vehicle.
At Manly Honda, your local Santa Rosa dealer, we have a huge selection of new and used vehicles from which to choose. Manly Honda's online and offline customers enjoy vehicle specials every day. We offer service & parts, an online inventory, and outstanding financing options, making Manly Honda in Santa Rosa a preferred dealer for buyers. Ready to set up a test drive? Visit our dealership in Santa Rosa, CA today!
Get Directions To Manly Honda