Honda Pilot Sales Near Santa Rosa, CA
©2022 Strong Automotive Merchandising. All Rights Reserved.
Honda Pilot Near Santa Rosa, CA at Manly Honda
If you've spent any time shopping for a spacious and feature-loaded SUV to accommodate your daily drives and family road trips, then it's likely that the Honda Pilot has crossed your radar. That's a great start! Now all you have to do is take a closer look at all the things that set this outstanding SUV apart from class competitors and then find your favorite at Manly Honda!
The Pilot is a popular pick in this highly competitive automotive segment – and that popularity is well earned. For starters, drivers already know and trust the Honda name. It comes with a built-in assurance that quality, safety, value, and reliability are driving forces behind the vehicle in question. The Pilot is a perfect example of Honda's commitment to excellence in all aspects of its vehicle production.
Inside the Pilot's handsome, modern exterior, you'll find a comfortable and inviting cabin that's remarkably spacious. All three rows feature cushy and supportive seats with plenty of legroom, headroom, and hip room to go around. With each passenger enjoying their own personal space, daily commutes and long journeys alike are sure to be more peaceful and relaxing. Additionally, the Pilot is packed with all kinds of tech offerings and comfort amenities. From entertainment and connectivity features to advanced safety equipment and premium upgrades throughout the lineup, the Pilot delivers everything you need to make the most out of every drive.
Keep reading to learn more about this remarkable midsize SUV and some of its highlights. Then, when you're ready to find a new or used Pilot of your very own, turn to Manly Honda and discover the deals we have in store for you!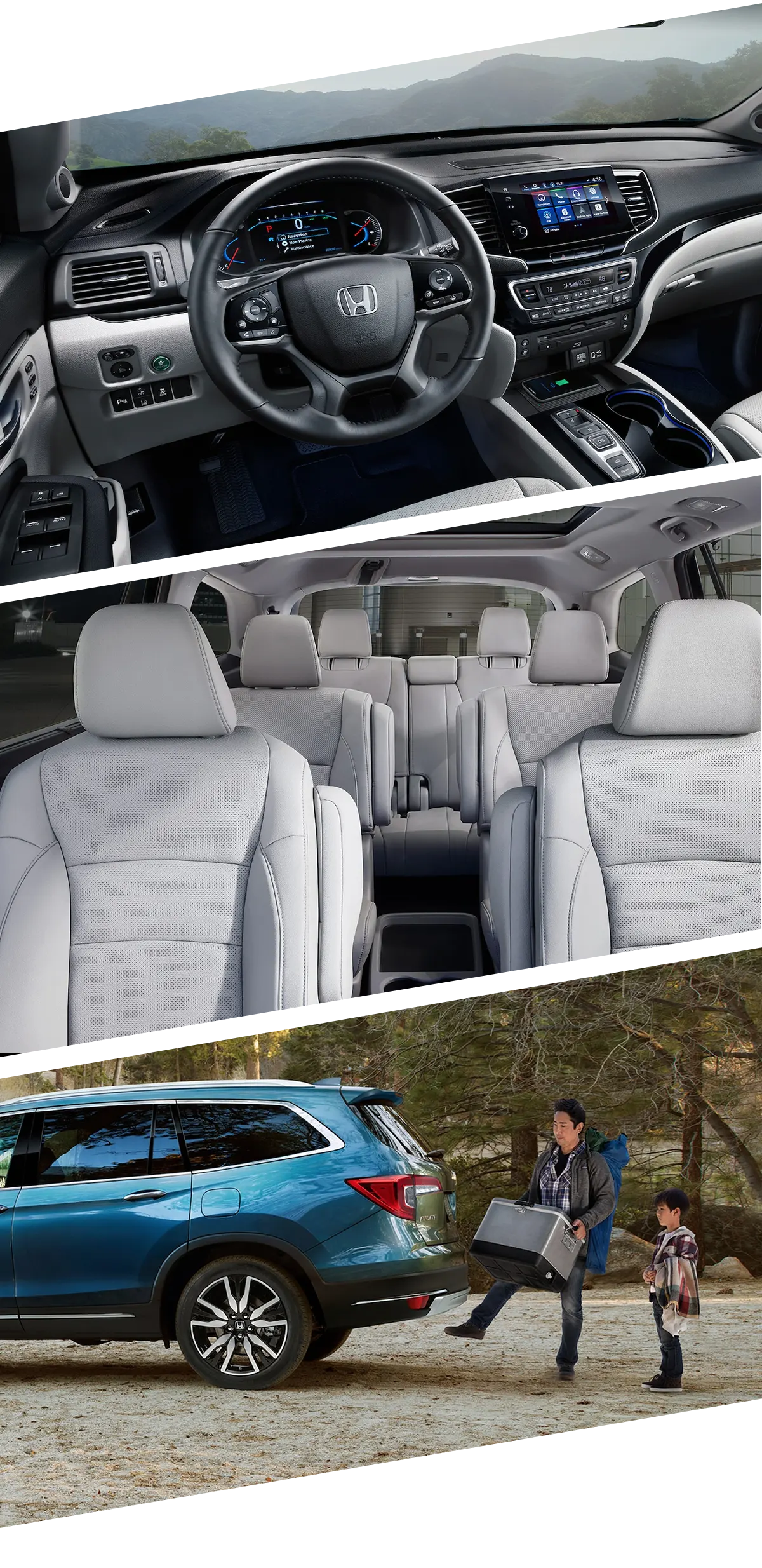 What's New in the 2022 Honda Pilot?
The 2022 Honda Pilot hits the road this year with an expanded list of standard features, which include an 8-inch touchscreen with Android Auto and Apple CarPlay®, along with LED headlamps. Additionally, a new trim joins the Pilot, which helps offset the removal of the LX and EX trims. A new exterior color was also added to the lineup.
The Pilot features an 8-inch touchscreen. Other tech features include: Android Auto and Apple CarPlay®, Smart Entry with Walk Away Lock, Wi-Fi, navigation, and USB ports, among others.
The 2022 Pilot houses a 3.5-liter V6 engine that produces 280 horsepower, which is paired with a nine-speed automatic transmission. All-wheel drive is standard on the top two trims and optional on the other trims.
Previous Model Year Information
History Highlights of the Honda Pilot
The Honda Pilot debuted at the perfect time, just when Americans were clamoring for more options in the fast-growing SUV segment. With Honda's sterling reputation for quality, reliability, and safety on its side, the Pilot was an instant hit among SUV enthusiasts and gained a host of loyal fans right from the start.
The first Honda Pilot was equipped with all-wheel drive and tons of interior space. Three model years later, two-wheel drive versions were introduced, and Honda modernized and freshened up the cabin for enhanced comfort and convenience.
Each passing model year since has seen Honda's beloved Pilot evolve to meet changing driver needs, desires, and expectations. The Pilot of today has it all: style, value, space, technology, power, and reliability – making it the obvious choice when you're seeking a three-row SUV that can effortlessly handle all of your daily driving needs and long-haul excursions alike.
Find Your Pilot at Manly Honda
You owe it to yourself to take a closer look at the Honda Pilot and find out firsthand why this SUV is such a universal hit among SUV lovers. Manly Honda is proud to serve our valued customers in the Santa Rosa area and beyond with our huge selection of all your Honda favorites as well as an extensive and diverse inventory of high-quality pre-owned models. We make it our mission to match you up with the perfect vehicle for all your automotive needs and desires – at deals you'll have to see to believe!
Kick off your search now by clicking your way around our online inventory. Whether you're browsing our in-stock Pilots or getting an overview of all the other vehicles we have in store, we think you'll love what you'll find here. And when you're ready to get behind the wheel of your favorite, stop by and let us hand over the keys and tell you about all the ways you can save when you buy or lease from Manly Honda!