Honda Odyssey Deals in Petaluma, CA
The Honda Odyssey is more than meets the eye. From the outside, you might see a family-friendly minivan, but on the inside, you'll actually find every driver and passenger's dream. There's tons of room, tech to match the times, and safety features to protect everyone inside.
The Odyssey stands out in its class with a sleek and sharp exterior, bringing style back into the minivan game. This ride stands out against competitors with a gorgeous glow and shape.
This is the perfect vehicle for traveling families. The interior is roomy, cozy, and updated for maximum comfort. Features like available leather-trimmed interior, heated and ventilated seats, and a one-touch moonroof make the ride enjoyable and relaxing; even if you plan to be on the road for hours at a time. And while you're covered with entertainment, you're also being taken care of with modern safety features designed to protect you the entire trip.
Do your family a favor and check out the Honda Odyssey to see if it's a good fit for your needs. Our team at Manly Honda is happy to get you behind the wheel of one for a test drive! Before you do that, though, let us highlight a few features to really seal the deal.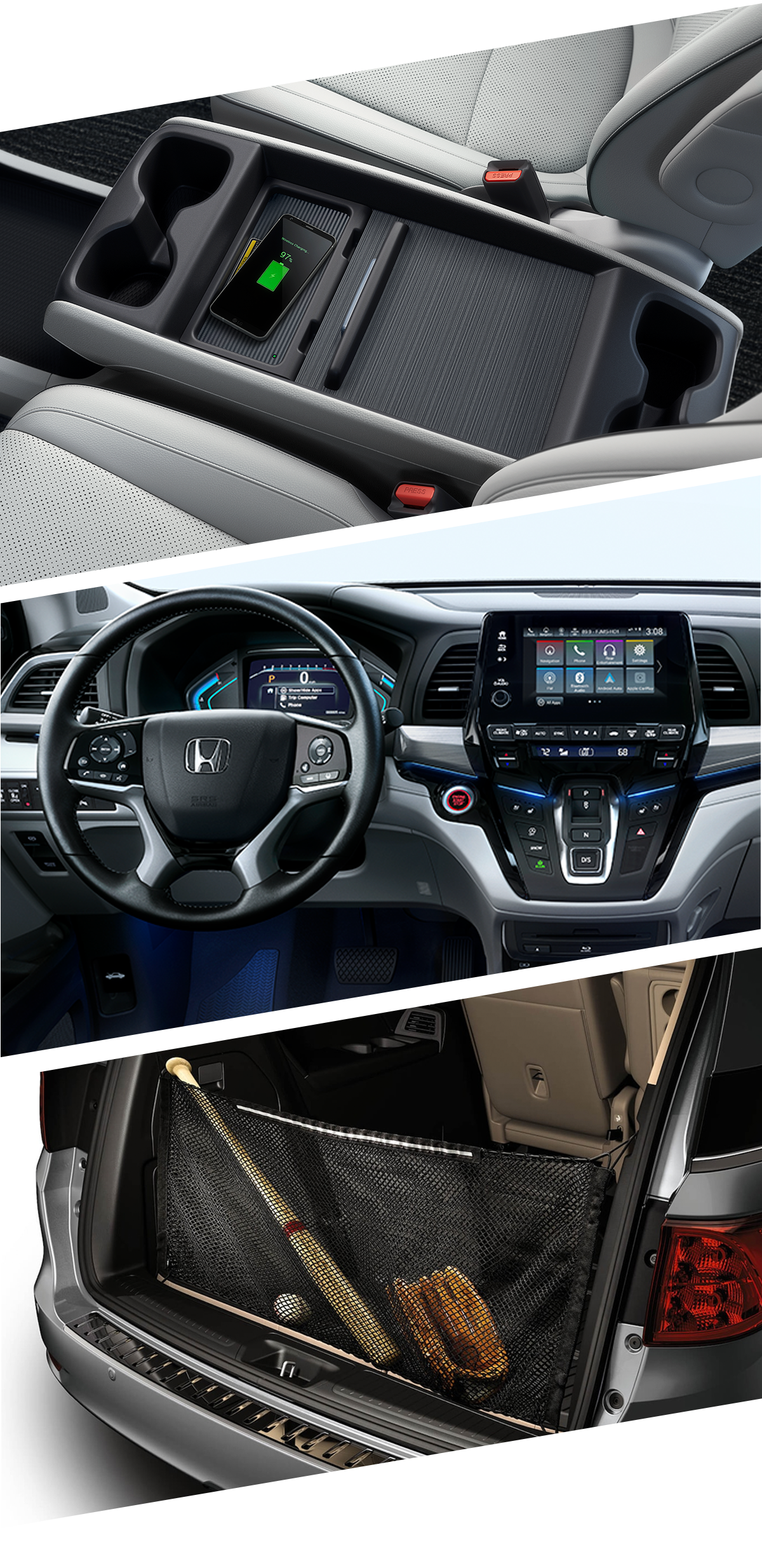 What's New in the 2021 Honda Odyssey?
The 2021 Honda Odyssey got a makeover. Both the interior and exterior designs were updated, plus the second-row seats now fold flat for your convenience. There are also a few new bells and whistles available, such as standard rear-seat reminder and Honda Sensing. If you want it, there is also an optional third-row USB port.
It's no surprise that the updated 2021 model is a hit amongst families. With five feature-packed trims to choose from, there's tons of options available to meet any needs you have. Some key technology features you can find inside include a Wi-Fi hotspot, a hands-free power liftgate, an in-car vacuum, and wireless phone charging. Your car will stay spick and span, and your passengers will have access to their devices the whole ride.
You're taken care of in a Honda Odyssey. Some of the safety features that have your back are adaptive cruise control, forward collision warning, pedestrian detection, automatic emergency braking, and traffic sign recognition
Part of what makes this minivan so comfortable is the ample amount of space inside. Behind the third-row seats, there is 38.6 cubic feet of space to store your groceries or luggage. For additional space, the third-row seats can even fold flat into the floor. With all of the seats stashed or removed, you're looking at 158 cubic feet of space. Wow!
A Brief History of the Honda Odyssey
Honda debuted their first minivan, the Odyssey, in 1995. Unlike other minivans, the first generation had doors that swung open like traditional car doors. That changed with the second generation, which was released in 1999 and featured a larger body and sliding doors. In 2005 the third generation also increased in size, and received impressive updates such as second-row center jump seats to add passenger seating. The fourth and fifth generations have brought the Odyssey where it is today; a class-leader and well-rounded minivan that anyone can appreciate.
The key factors that have run through all generations of the Odyssey are this: it's comfortable, easy to operate, and works hard to keep you safe. While the interior and the exterior of the Odyssey has changed, these things have not.
Find Your Odyssey at Manly Honda
By now, you're probably picturing yourself in a Honda Odyssey. Well, you don't have to just picture it for too much longer. Stop by Manly Honda and let us show you our unique inventory. Our brand experts can answer any of your questions and give you a closer look at the right one for you. We have some incredible savings opportunities, so be sure to give those a glance as well!