Meet the Honda Civic in Santa Rosa, CA
©2022 Strong Automotive Merchandising. All Rights Reserved.
The Honda Civic in Santa Rosa, CA at Manly Honda
Though most automakers offer compact cars, few have the notoriety that the Honda Civic does. The Civic, which has decades of experience under its belt, offers everything one could hope for in a compact car and lives up to the fame it has acquired over the last half of a century.
The Honda Civic boasts a surprisingly roomy cabin, conservative gas mileage, and lots of exciting technology to make all of your daily drives more fun and connected. Plus, it's a Honda vehicle, so you can rest easy knowing the Civic is full of Honda's signature reliability, durability, and value.
When you're searching for a Honda Civic in the Santa Rosa, CA area, there's no question of where you should look for your new Honda Civic – head straight in to see us at Manly Honda. Just like the Honda Civic, we have decades of experience with Honda vehicles, and we're proud to keep a large selection of new Honda models for you to peruse.
Stop by our Santa Rosa, CA Honda dealership today to see the Honda Civic and explore all of our available year models and trim levels for yourself. You'll be able to start the car up, explore the infotainment and safety features, and take the Civic of your choice out for a test drive. While you're with us, be sure to ask any of our associates about the current savings opportunities we have in store for you here at Manly Honda.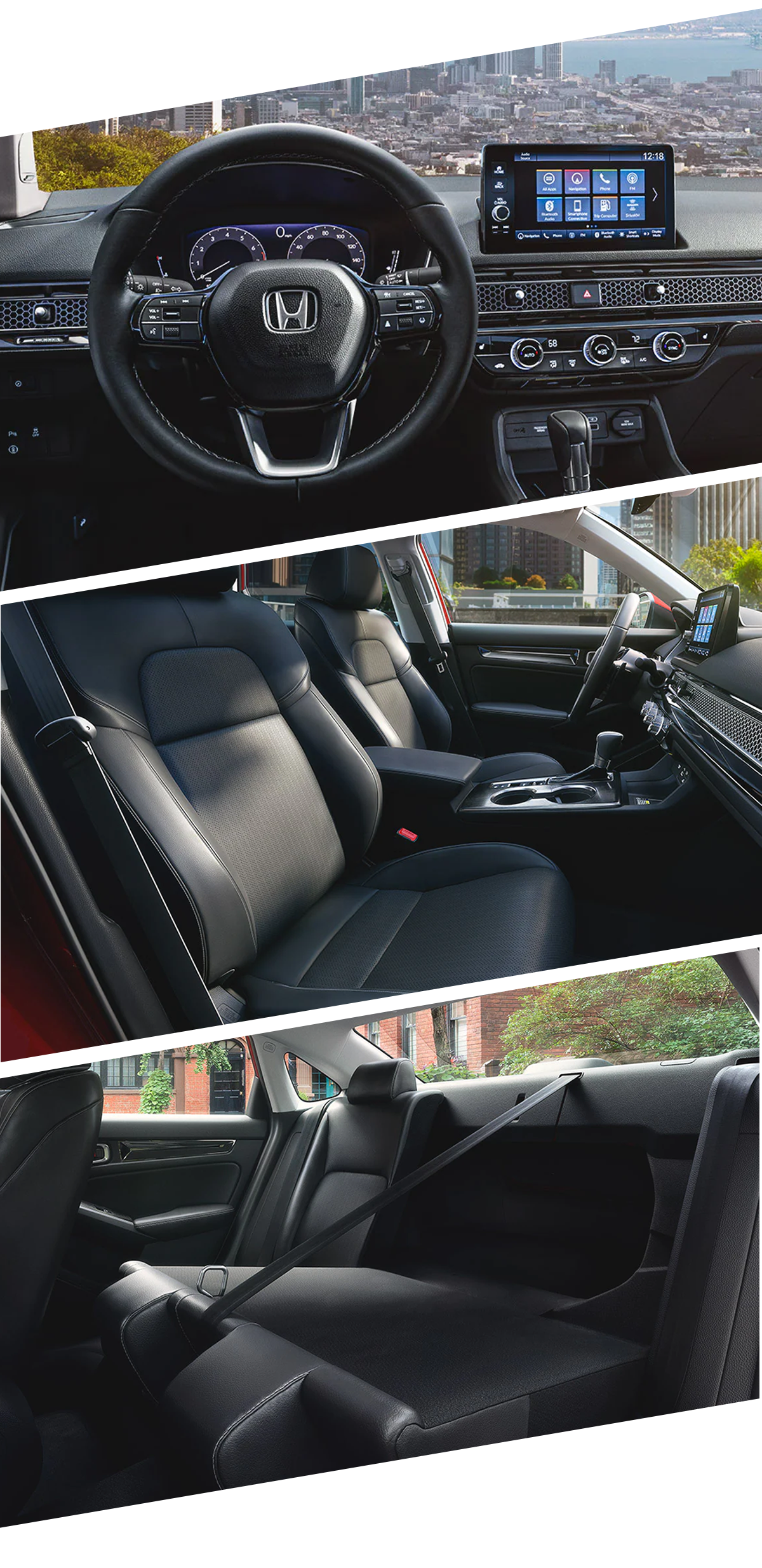 What's New in the 2023 Honda Civic?
For 2023, the Honda Civic's trim range sees the return of the spirited Civic Type R hatchback. This sport-focused variation offers an engaging ride thanks to its turbocharged 315-horsepower 4-cylinder engine. The finely-tuned compact rides on new 19-inch wheels with front-wheel drive, and a six-speed manual transmission comes standard to let you take gear shifting control into your hands. This comes just one year after a complete Civic redesign with fresh features and new looks inside and out.
Previous Model Year Information
History of the Honda Civic
Honda released the Civic to the American Market in 1973, and it was an instant success. Drivers were delighted with the Civic's light weight and fuel efficiency, especially in the midst of the ongoing oil crisis. Through the years, the Civic has held true to its core values of reliability, efficiency, and value, which is why it has continued to remain one of the most desirable compact cars on the market.
Since the original Civic was debuted, Honda has continued to redesign and refresh the Civic every few years to ensure that it stays at the cutting-edge of its class. The modern Honda Civic is just as competitive and class-leading as it was nearly 50 years ago, and it shows no signs of slowing down now.
Find The Honda Civic at Manly Honda
We've spent decades building our family business at Manly Honda, and we're proud to be one of the premier Honda dealerships in California. We treat each of our clients as if they're family, which means we offer upfront pricing, a wide selection, and exceptional customer service day in and day out. You're sure to experience the Manly difference when you're with us at our Santa Rosa, CA Honda dealership.
Pop in to see us at Manly Honda today to explore our diverse lineup of Honda vehicles, including the Honda Civic. We can't wait to see you soon!