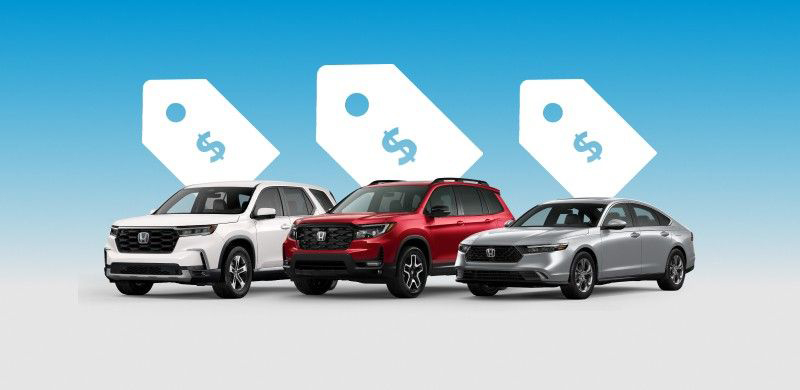 Current Offers
See this month's featured current offers going on now on new Honda vehicles.
View Offers
Our Reviews
friendly, and professional towards me and my guest when we arrived to sign our paperwork.
My recent visit to the Manly Honda Service center I had the oppurtunity to meet Brian Dorsey in the service center and was very impressed. He was very respectful and answered all my questions. I would definitely refer friends and family to Manly Honda.
Nicole and Sean both gave us an amazing experience purchasing our new car. Nicole's attention to service and detail was especially outstanding!
Great customer service! I was very happy with how smooth it was when I purchased my new CR-V.
Jose, Hector, Michael and Cory have given us a spectacular and unforgettable experience. Jose was the main guy who was willing to come in even on his day off! (That was special) he couldn't but committed us to the great hands of Hector who was AMAZING. The whole experience was great we left the place extremely satisfied and happy with no questions at the back of our minds. He was transparent and honest in every step, helping us double check, explain stuff and triple checking everything. Honda was our second dealership to visit but the experience there was above and beyond! Highly recommended! Michael gave us an excellent service too with our paper work! (All the best with the new born). Erik gets a 5 star too for his welcoming, contagious smile, and great sense of humour. (Hector). We are very pleased with the service of Manly Honda Santa Rosa.
Brought my newly purchased used Pilot in for new key. Had some questions about the car that Dave Ashby looked up and shared with me. Service dept quoted some necessary engine work to be done at very reasonable price. Service was very quick and mechanic's report included good description of work done and other findings while working on the car. When I picked up the car, I was helped immediately. Brian explained every thing in detail. He answered every question I had completely and to my satisfaction. my Pilot drives and performs flawlessly. I am not a huge dealership guy but I will be returning to Manly Honda for more service when needed.
Javier and Ali were phenomenal. They put such an emphasis on customer service. They're the reason that I'll recommend Manly.
Amazing customer service! Angel was very patient. The best part is that he's bilingual.
The whole experience of buying my new truck was easy and enjoyable ! Great experience. Can't say enough good things.
Excellent service. Mario made sure I was getting the greatest value for my service dollars. Recommended.
This is my third vehicle from Manly Honda. Scott and Sean were helpful, cheerful and answered all of my questions, or found the answer quickly. I felt like a "special" customer throughout the process. And yes, I get my vehicle serviced at Manley Honda as well.
Enjoyed working with everyone at this dealership. They have been good to work with the service department also.
Great experience and wonderful place! Stephan was awesome and knowledgable! Manly is a great place to buy a car!
Service was completed on time and my car was washed. Staff was very friendly and waiting area was relaxing.
Mario went above & beyond in servicing my car and helping answer my questions. He was knowledgeable in what my car needed done & what I can expect in the next service appointment. 10/10 would recommend.
The best service I've had from various Honda dealerships. Great team & genuine care for each situation.
I had a decent buying experience at Manly Honda. Given the current car shortage, I was on a wait list for my Civic for a few weeks. My sales associate Mike took the initiative and kept me up to date on the status of my vehicle. Once it arrived, the process to get the car into my possession and off the lot was quick (less than 2 hours). My only quibble was the extended warranty guy didn't present the extended warranty options/benefits as clearly as he could have. To his credit though, he wasn't pushy when I decided to pass on it.
Representative was very helpful. Car was completed on time. Check in and out was speedy.
Everything worked out perfectly. Easy and simple! I appreciate everyone that helped me get the car I wanted!
Love how they are with the customers ! Great feed back, need any questions they got you ! One of the best places to buy a car in my opinion ! Great Service ! 10 out of 10 !!
Great Dealership! Tom Haidet is the best salesperson I have every dealt with. We would definitely recommend Tom Haidet to our family and friends. Great job Manly! I am
My experience selling my vehicle to Manly Honda was amazing. Lorena and Brian were great to work with. Lorena honestly and ethical standard is to be highlighted. Thank you and I highly recommend this dealer.
Work was done on time and the waiting area is comfortable, clean and wi-fi connection is strong and helps pass waiting time. Everyone seems pleasant and friendly.
Everyone is always so friendly and helpful. I appreciate everyone here and I am always happy after my service.
As always our experience from start to finish was excellent. Kudos to Nicole, Sean, and Denise.

Welcome to Manly Honda
Your Trusted Dealership in 2777 Corby Ave Santa Rosa, CA 95407-7845
We know that prospective customers are extremely well educated when researching their next vehicle. Manly Honda in Santa Rosa has made it easy to get all the available vehicle information so you can spend less time researching and more time enjoying your purchase. Check out our new specials and used specials for additional savings on your next vehicle.
At Manly Honda, your local Santa Rosa dealer, we have a huge selection of new and used vehicles from which to choose. Manly Honda's online and offline customers enjoy vehicle specials every day. We offer service & parts, an online inventory, and outstanding financing options, making Manly Honda in Santa Rosa a preferred dealer for buyers. Ready to set up a test drive? Visit our dealership in Santa Rosa, CA today!
Get Directions To Manly Honda